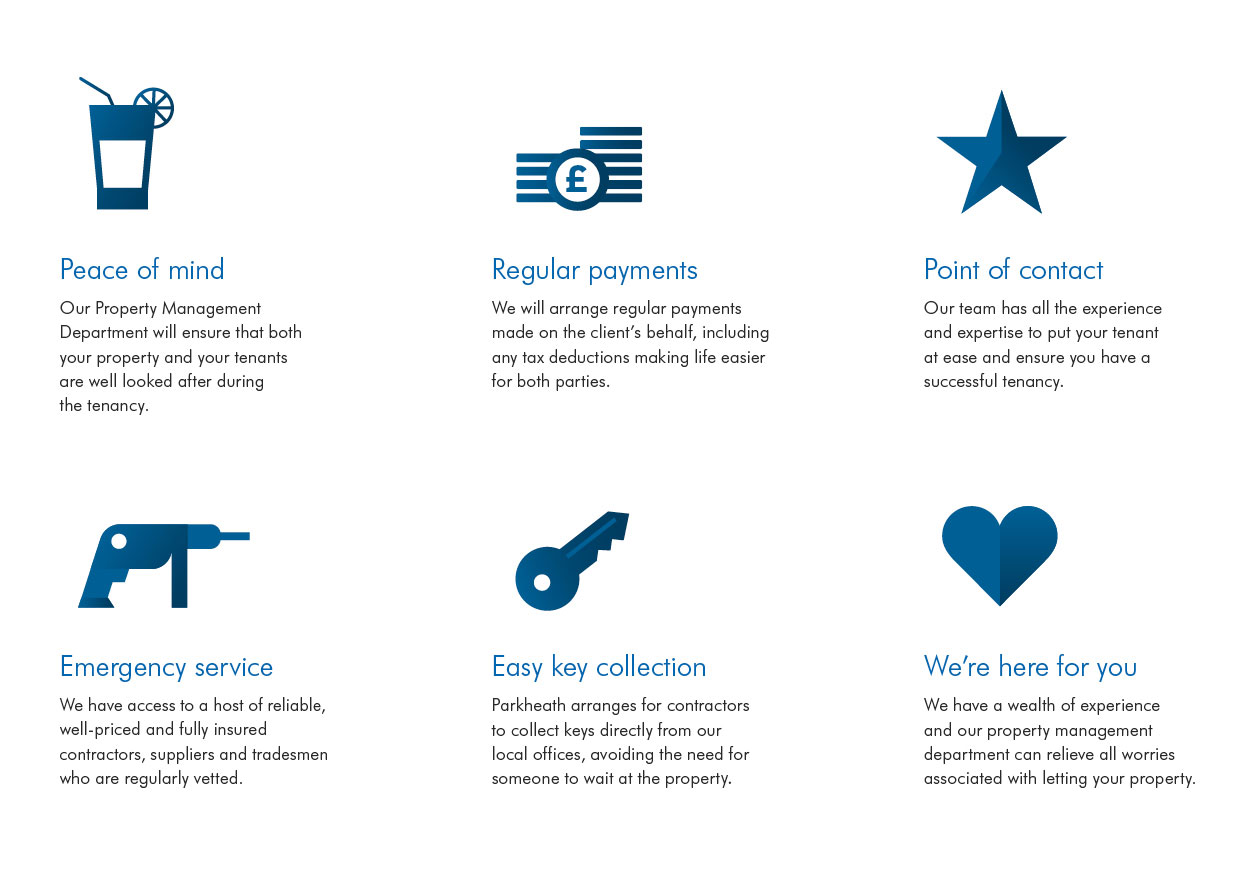 At Parkheath we believe that maintaining the long term value on your rental investment is just as important as getting a good tenant for your property. We also know how time-consuming it can be to be a full-time Landlord dealing with tenants' telephones calls and resulting work. Parkheath offers a management service which ensures that we not only deal with any maintenance issues that may arise, but that we also keep an eye on your property for you to ensure that is kept in good condition.
We offer several management packages to suit your requirements. Services include:
Collecting the rent
Transfer regular rental payments received by the Tenant on the clients behalf, including any necessary tax deductions in line with the finance Act 1995
Deposit holding in line with current legislation
Easy online repair reporting for Tenants and an out of hours emergency service for Tenants
We advise the Tenants regarding the transfer of utilities and where possible we will arrange settlement of the final accounts
Arrange an independent inventory and schedule of condition of the property prior to Tenants moving in
We conduct a complimentary compliance check for every property to ensure your property is fully compliant in line with the latest legislation
We will arrange the legally required certificates when due including the annual Gas safety Certificate, EPC, and EICR
Carry out periodic inspections of the property and report on it's general condition
Settlement of regular outgoings such as Ground Rent, Service Charges, Maintenance Charges, with your agreement.
Arrange any cleaning and garden maintenance necessary to put the property in order before or after the Tenancy
Arrange all repairs and maintenance to the property
Provide a Key Holding Service for Landlords
Arrange and negotiate a tenancy renewal or termination at the end of a fixed term
Manage the check-out and deposit negotiation process.
Landlord's online access to their property account
To discuss Property Management in more detail, please contact us on 020 7433 6174.